Carolina Hurricanes: PNC Arena through European Eyes
Thursday 7th November marked one of the most anticipated nights of my life, my first Carolina Hurricanes game, ever. PNC Arena was the venue, the New York Rangers the opponents.
The trip had been planned for months. In fact, the game tickets were bought before the plane tickets. Three flights later and I was in North Carolina. After waiting years, I was finally going to see the Carolina Hurricanes play live.
I already knew I wouldn't have the pleasure of watching Jordan Martinook. Then, news came through about the injury to Erik Haula, who's been so great to watch this season so far. What was cool however, was to witness an NHL debut for Eetu Luostarinen, who had a solid game.
As I'm sure I've mentioned before, in England, if you mention hockey to someone, they'll think you're talking about field hockey. Ice hockey culture is almost non-existent and as a spectator of any sport, you feel a little disconnected from the team of stars you worship.
That was my immediate first impression, the sense that you felt a lot closer to your team here than I did at any level of soccer game I'd ever been to in England. To have Stormy walking around the concourse high-fiving fans and taking pictures was a breath of fresh air.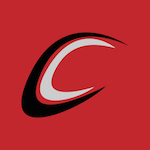 I'll agree, hockey mascots will do the same in England, but you have to remember that the level of hockey in England is not even comparable to the NHL. It's like a different sport and I mean more than just the width of the ice. While I knew prior to visiting that this is normal at NHL barns, I still greeted Stormy with a childlike reaction.
The next thing that shocked me was how much you could get for free. I managed to bag posters, coozies and soft toys, all for nothing. This goes against everything that I've ever experienced at any event in England, sporting or otherwise. Normally, you're expected to pay for everything. Nothing is free.
Then came the shock of the night. While speaking to one of the Carolina Hurricanes promotions staff about our trip, she offered us the chance to ride the Olympia Ice Zamboni during the second intermission. I couldn't believe this at all. I almost thought she was joking.
I almost thought she was joking!!
Obviously, I accepted. Although after the game had started, I was filled with a few nerves about going out on the PNC ice. The atmosphere inside PNC was comparable to many events that I'd been to in the past. While American fans are often more passionate, sport can turn anyone into a raging lunatic, no matter where you're from.
During the first intermission, I dashed back to The Eye to pick up my new Carolina Hurricanes away jersey. Andrei Svechnikov, of course. That jersey is so sweet, it was worth every penny. I was glad I'd bought it now considering I was about to go out in front of everyone inside PNC.
Having never been to any NHL game prior, I was so unsure as to how hockey could be so much more enjoyable, compared to what I experienced every week with my team in England. Despite the standard, there's nothing I enjoy more than making a trip to the rink on Saturday or Sunday night.
Well, it's certainly different. The puck movement is so much faster and the passes are crisp and on the tape every time. This is something I hope NHL fans don't take for granted. You're blessed to have the quality of hockey available to you.
While I didn't scrimp on seat price, opting to get the most out of my experience by sitting rinkside, I think I would've had just as much fun in the nosebleeds. Here, lies the most horrendous comparison I can make.
A ticket to watch the Carolina Hurricanes at the magnificent PNC Arena, costs the same as going to watch my local team play. That's mad and totally out of order. It's shocking to think you can either watch Dougie Hamilton, or Sam Bullas on a Saturday evening, for the same price.
Earlier on in my trip, I was able to attend an SPHL game in Roanoke, Virginia. I definitely think a few of the players from my favorite team in England would be able to make the Roanoke Rail Yard Dawgs, yet these guys were still considered somewhat professionals, when my league is absolutely semi-professional.
It was fascinating for me to be able to compare hockey over the two nations. Visiting PNC Arena was a real eye opener on how a sports team can make their fans feel valued, as just how great and passionate hockey fans are.