Carolina Hurricanes Call up Eetu Luostarinen to Fill out Roster
Once again the experiment of using 11 forwards and 7 defenders is short lived as the Carolina Hurricanes call up center Eetu Luostarinen from the Charlotte Checkers.
There is no secret that I have no love for the use of only 11 forwards along with 7 defenders, regardless of how good those defenders are. Seems that Don Waddell somewhat agrees. The Carolina Hurricanes called up Eetu Luostarinen to replace fellow countryman Erik Huala on the roster in time for the home game against the New York Rangers.
Erik Huala who has missed another practice today has again aggravated his knee, which he injured late last season with the Vegas Golden Knights. He seems to be not as serious however and is listed as day to day. He already missed the game against the Philadelphia Flyers which saw the Hurricanes lose 4-1 in what might be one of their most frustrating losses all season.
21 year old left handed center Eetu Luostarinen is playing his very first season in North America after being drafted in the second round, 42nd overall, in the 2017 NHL entry draft. That makes him the second pick in that draft by the Carolina Hurricanes after Martin Necas of course. At that point he was already playing in Finland's men's Liiga league at the young age of 18.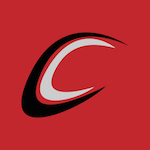 Fast forward a couple of years of playing in Finland in the Liiga league as well as the international juniors tournament as World Cup and he finds himself in North America this season with the Charlotte Checkers. So far he has only played in the 10 games this season posting five goals and a pair of assists. Not bad for your first professional season.
Now he will be expected to take another step forward and play in the National Hockey League. I expect Lucas Wallmark to continue to center the third line of Ryan Dzingel and Martin Necas which will allow Luostarinen to center the fourth line of Brian Gibbons and Brock McGinn with limited minutes. If he manages to gain Rod Brind'amour's trust, who knows, perhaps that might change.
For now I wouldn't expect Luostarinen to be with the team for very long. He is still a long way from being a developed product ready to play in the NHL. Very unrefined and very undisciplined. In his first 10 AHL games he managed to find himself in the sin bin a few times collecting up six penalty minutes. In 54 games for KalPa in the Liiga league last season he managed to rack up 79 penalty minutes!!
While that is an impressive feat in and within itself, it's not something Rod Brind'amour would have the patience for. Expect him to retain his #43 from the preseason as he tries to make a good impression in his first game with the big team. Good news is that the Rangers are playing tonight which should soften them up for the Hurricanes tomorrow.
Question for CC Readers: How well do you think Eetu Luostarinen will do in his NHL debut?