Carolina Hurricanes: Three keys to Finishing off Weekend with Win over Devils
Less than 24 hours after a wild 7-3 win over the Detroit Red Wings the Carolina Hurricanes take on a second adversary in the form of the New Jersey Devils.
Last night was fun right? Who is ready to do it again? The Carolina Hurricanes will take on another adversary donned in red tonight after cleaning up the Detroit Red Wings with an epic 7-3 win which saw them score in FIVE different ways. Tonight's matchup pits them up against the New Jersey Devils for the first time this season.
The last time the Carolina Hurricanes saw the New Jersey Devils was their last regular season home game of the 2018-2019 season. The Hurricanes beat the Devils then which, with some help, purchased their ticket to the Stanley Cup Playoffs for the first time since 2009, ten years prior TO THE DAY.
While much of the game isn't very memorable, the Hurricanes handily defeated the playoff contention eliminated New Jersey Devils quietly in front of a roaring crowd. What happened next was unforgettable. In its final regular season moments, the PNC scoreboard showed the out of town scores which included Washington defeating Montreal.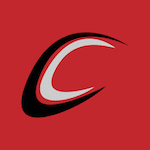 Along with the two points that came with the win against the Devils, that was all they needed to end the playoff drought. Petr Mrazek was the first to look up and notice. He almost jumped out of his skates as he embraced his teammates. Fittingly enough he was the first star of that game and in his interview he only had one thing to say:
"WE'RE IN, WE'RE IN! YES! YES! WOOOOOOOOOOO"
The crowd roared his name as he fed off their energy. Since then the Hurricanes have taken a seven game series against the then reigning Stanley Cup Champions, and swept a team that swept a team, only to be swept themselves in the eastern conference finals by a team that would eventually lose to the Stanley Cup Champions.
Tonight's game against the Devils most likely does not have the same implications for the playoffs that the game last April did. That said, the Carolina Hurricanes need to secure as many points during this home stand as possible. That means two points tonight.
So what will they need to do to replicate the successes seen last night as well as the success of the team that beat the Devils on route to their first playoff game in a decade? Lets take a look at the three keys to tonight's game.